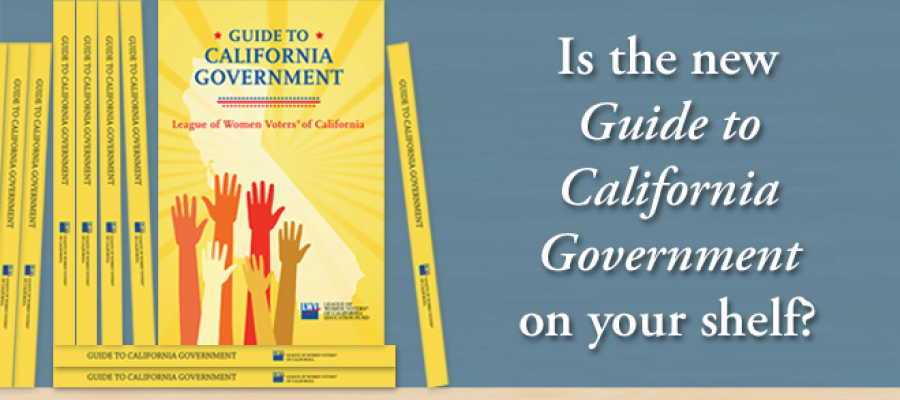 Updated in its 16th edition, the Guide to California Government (G2CG) is designed to engage and inform readers by emphasizing the public's role in California government. Order it now.
This easy to use book explains: 
voting and elections logistics
the initiative system
levels of government
state finances
the education system
how to contact your government
This unique edition has handy info graphics explaining complicated structures of government, icons in the margins to link and highlight topics along with related Web sites so readers can find and access their government easily.  ORDER ON AMAZON.    
Are you a teacher or League member? Get 40% off of order of 25 or more!
Read what people are saying about the book
"The League of Women Voters of California has done it again! The Guide to California Government is thorough, non-partisan, easy to read road map for navigating the often complicated process for voting and engaging with our government. We look forward to using this amazing resource in Rock the Vote's work engaging California's citizens". -Heather Smith, President, Rock the Vote
"When we all contribute to an evolving paradigm, one that fosters compassionate civic engagement, deliberative dialogue and cultural humility - we build the scaffolding for an equitable society. The Guide to California Government is a critical resource for us to make educated decisions about how we participate in a democratic process".
-Emily Kinner, Executive Vice President for External Affairs, Student Senate for California Community Colleges
"The Guide to California Government is an excellent overview of California government with clear, easy to understand explanations of how our government works. This publication will be very useful for those just starting to learn about their government in citizenship classes, and for first-time voters of all ages".
-Randy Weaver, Program Director, Project Read Literacy
"Who better than the League of Women Voters to explain California government to us? They themselves are a great example of how to combine grassroots groups with Sacramento lobbying to change policy!"
-Jan Masaoka, CEO, California Association of Nonprofits
"As someone who registers and mobilizes thousands of college students to engage at the polls, I look forward to utilizing the Guide to California Government in order to best educate college-age voters. The information is brief, relevant and easy to understand."
-Miles Jason Nevin, Executive Director, California State Student Association (CSSA)
"The Guide to California Government fills a needed gap in curriculum. It is current, easy to read and understand, yet challenging enough to require students to read it closely. The Guide is essential information for every citizen or future citizen of California."
-Marsha Ingrao, President California Council for the Social Studies.
NEW! View updates to the book.
Help us translate the Guide to California Government into other languages. Donate today!
Share your thoughts about the book on our Facebook page.