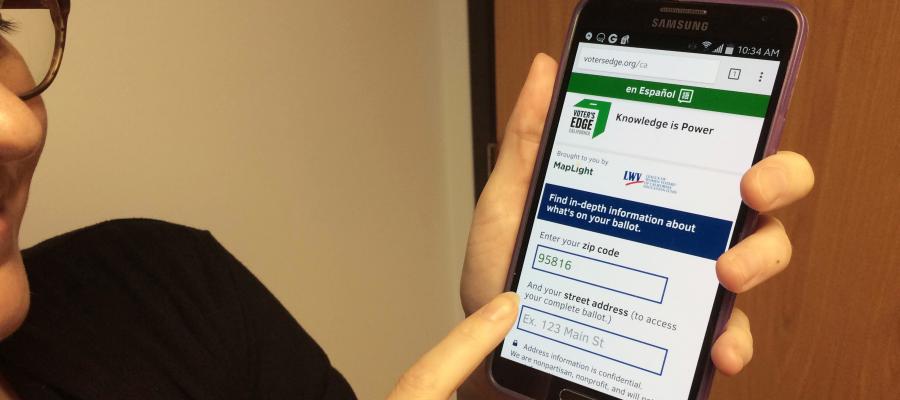 What is Voter's Edge?
Voter's Edge California (VEC) is an unbiased online guide to elections covering federal, state, and local races in California.
With Voter's Edge, you can:
Access your full, personalized ballot by entering your address.
Hear directly from candidates about their positions on important issues.
Get clear explanations of ballot measures and find out who's funding them.
Check where, when, and how to vote, including your polling or vote center locations.
Keep track of your choices to make voting easier.
Enter your address and view your ballot now!
Are you running for elected office? Voter's Edge can help!
Voter's Edge allows candidates to create an in depth platform, post unfiltered messages, and speak directly to voters. Candidates get to share why they are qualified, what they will do if elected, display videos and much more – all at no cost! Find out how candidates can amplify their message - get in touch with the Voter's Edge California team.
Engage Voters: Share, promote, or embed the VEC ballot look up tool online
Easily embed our ballot lookup tool on your website. This tool will allow users on your website to enter their address and then have their ballots open in a new tab, where they can then learn about candidates and ballot measures and get answers to important questions about upcoming elections. 
More About Voter's Edge
Voter's Edge California Background
Voter's Edge California is a joint project of MapLight and the League of Women Voters of California Education Fund (LWVCEF). Since launching in 2014, Voter's Edge has provided millions of voters with in depth candidate information and unbiased explanations of ballot measures.
Outreach flyers for your use:
3. VEC 2018 Election Success Infographic