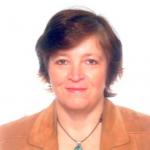 Email Address:
sdiefendorf

[at]

lwvc.org
Sarah Diefendorf is serving her second consecutive term on the LWVCEF board for 2015-2017.
Sarah serves as Executive Director of the Environmental Finance Center West located at Dominican University of California and University of Maryland. In that capacity, some of Sarah's work includes working with indigenous people in California, New Mexico, Arizona, Hawaii, and Nevada to promote green business enterprises, improve their capacity for long-term sustainability, and protect their sovereignty. Sarah has also supported Tribal efforts to develop integrated waste programs, transfer stations, and recycling programs and has recently been funded by the Bureau of Indian Affairs to help develop a Tribal Climate Change Vulnerability Assessment program for the Native American Environmental Protection Coalition.
Internationally, Sarah is also working on the following three waste reduction projects in Mexico: 1) helping the Tijuana Compost Center develop a sustainable business and marketing plan to divert food and green waste from local landfills, 2) assisting USEPA with community outreach and education in Mexicali to help border neighborhoods protect their local watershed, and 3) developing a sustainable materials management symposium to be held in the border region in fall 2015.
She also serves as a national Leadership Trainer for the Environmental Finance Center Network (a community of ten universities throughout the United States) and in that capacity has provided multiple workshops for water systems, elected officials, and other government representatives from small and rural communities across the country. Sarah will continue to provide at least ten Leadership Workshops in ten different states throughout 2015 and will be developing additional curriculum to support Climate Resiliency for Small Water Systems.
Since 2001, Sarah has worked as a Grassroots Capacity Building Trainer for the League of Women Voters of the United States and has worked with marginalized communities in Ethiopia, Zimbabwe, Nigeria, Armenia, Jordan, Tunisia, and Jamaica. Other international work includes developing and leading training workshops on leadership, sustainable enterprise, and grassroots advocacy in South Africa, the Democratic Republic of the Congo, and Thailand. Sarah is a past president of the San Francisco League, a past 2nd vice president of the National League, and currently serves on the California League state board. She is also the board president for the Carbon Cycle Institute and is working with that institute to promote the use of compost as a carbon sequestration tool in the US and abroad. Sarah serves as an expert witness on the USEPA Environmental Finance Advisory Board and holds a BA in International Relations from San Francisco State University and a Master's degree in Environmental Geography from Cambridge University.
Read her personal story about her League experience as part of our Storybank.