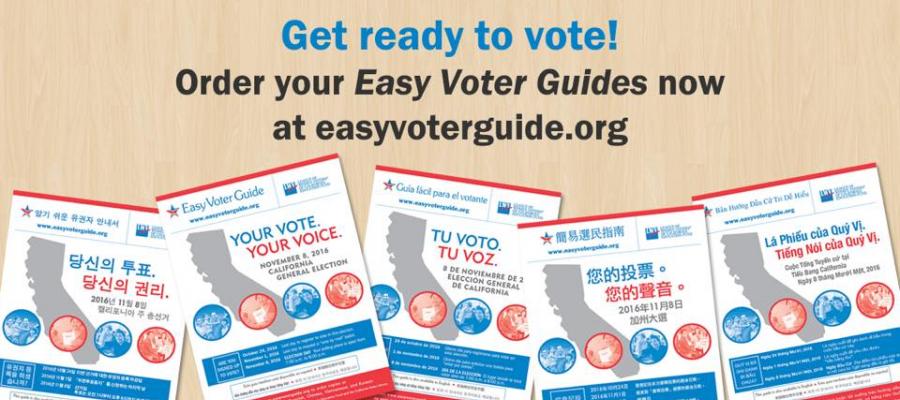 It's time to order your copies of the Easy Voter Guide for the June 5 Statewide Primary Election! The deadline to order is April 6, 2018. Guides begin shipping April 28.

Are you a county registrar or community group?
Order Easy Voter Guides for purchase in bundles of 50 copies for $9.00 plus shipping and handling: ORDER HERE

Are you a public library or local League of Women Voters?
Order 10 free bundles of Easy Voter Guides per library or League. lwvc [at] lwvc.org">Contact us for the order link!

More about the June Easy Voter Guide:
The Easy Voter Guide will be published for the June 5, 2018 Statewide Primary Election in English, Spanish, Chinese, Vietnamese, and Korean.
The June Easy Voter Guide is 4 pages and features:
What to expect in this election
Easy to read explanations of the ballot proposition
How to register and vote, including important dates, and helpful tips
Find more resources on our Easy Voter Guide Project website.
Questions about ordering?
Please call 916-442-7215 or email lwvc [at] lwvc.org.
Get daily shareable election info!