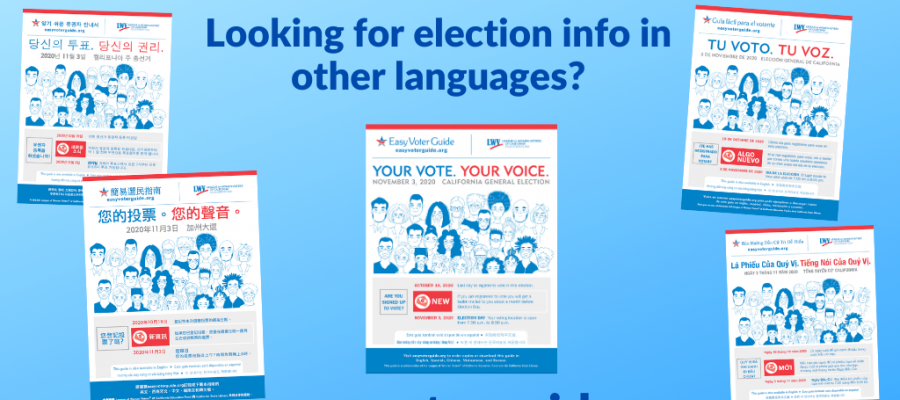 Our Easy Voter Guide helps the election makes sense. View, download and share it with your friends and family. Other languages will be posted soon. 
What is in the Easy Voter Guide?
 
In this "general" election on November 3, 2020, voters will:
Choose a President and Representatives in U.S. Congress and the California State Legislature.
Vote "YES" or "NO" on 12 proposed state laws for California.
Vote for other candidates and proposed laws depending on where you live.
Every registered voter will get a Voter Information Guide in the mail that lists everything they can vote on. You do not have to vote on everything. Your votes still count even if you choose to skip some things on
your ballot. View our Easy Voter Guide to help you understand the 12 proposed state laws (propositions):
Prop 14 – Stem Cell Research
Prop 15 – Taxes on Commercial Property
Prop 16 – Allow Public Agencies to Consider Diversity
Prop 17 – Voting Rights for People Who Have Completed Their Prison Term
Prop 18 – Voting Rights for 17-Year-Olds
Prop 19 – Changes in Property Tax Rules
Prop 20 – Changes to Criminal Penalties and Parole
Prop 21 – Local Governments and Rent Control
Prop 22 – Rideshare and Delivery Drivers
Prop 23 – Kidney Dialysis Clinics
Prop 24 – Changes to Consumer Privacy Laws
Prop 25 – Yes or No on Getting Rid of Bail
Visit votersedge.org to see what will be on your ballot. It's easy. Just enter your home address.
This guide is a collaboration of the League of Women Voters® of California Education Fund and the California State Library.