Smart Voter and MapLight have
teamed up to bring California a new comprehensive, nonpartisan online
guide to elections called Voter's Edge. This partnership marries Smart
Voter's powerful coverage of election contests and candidates with
MapLight's deep expertise in public data and technology.  Smart Voter is
a long-respected program of the League of Women Voters of California
Education Fund, one of the most authoritative sources for elections
information in the state. MapLight is a nationally acclaimed 501(c)(3)
research organization that publishes Voter's Edge, a national
nonpartisan online voter's guide. 
Using innovative technology, Voter's Edge will provide Californians
with comprehensive information for California voters about all of the
candidates - federal, state, and local - that will appear on their
ballots, as well as nonpartisan information about state and local ballot
measures. Local election information will cover 90% of California
voters.
"Our democracy thrives when all Californians have the tools and
information they need to participate fully in civic life," said Melissa
Breach, League of Women Voters of California Education Fund Executive
Director. "MapLight is the leading source for information on money in
politics, and our new partnership will ensure more Californians are
fully informed and engaged on election day."
"An informed electorate is essential to a functioning
democracy," said Daniel G. Newman, MapLight's Co-Founder and President.
"We are delighted to work together with Smart Voter, the best source for
unbiased election information in California, on this joint project
that brings voting guides into the 21st century. Voter's Edge allows
voters to easily separate fact from fiction so they can make informed
decisions at the polls. Being an informed voter has never been so easy."
The partnership between the League of Women Voters Education Fund and
MapLight is designed to provide critical, trustworthy information to
help Californians decide how to vote at the polls. A balance of
publicly-available and candidate-supplied information will be delivered
more quickly and efficiently to a larger audience than was ever before
possible. 
Voter's Edge Ballot Measure pages will show each measure's Summary Information-what
a "YES" or a "NO" vote would mean; the projected financial impact of
the proposition; campaign arguments by proponents and opponents; Funding Data-a top 10 list of contributors, the geographic origin of contributions and a breakdown of contributions by industry; Key Endorsements for and against the measure; News; and Editorials. 
Voter's Edge Candidate pages will show publicly-available information as well as information provided directly by candidates including: Political and Professional Background, Endorsements, Campaign Finance Data, Policy Priorities, Political Philosophy, and Videos of Key Policy Speeches.
Candidate supplied information will be gathered through the League of
Women Voters of California Education Fund's grassroots volunteers across
the state.
Voter's Edge is made possible, in part, by The James Irvine
Foundation as well as the generous support of individual League of Women
Voters of California Education Fund's Smart Voter donors.
Contact Elizabeth Leslie for interviews - eleslie at lwvc.org or by calling 916-442-7215.
Editor's Note: Funding data will be available for
select ballot measures and all California congressional and state-level
candidates. If you're interested in hosting an iFrame of Voter's Edge on
your media site please contact pamela [at] maplight.org. California ballot measures and candidate pages will be live prior to the June primary election.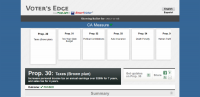 Subject
Voter's Edge and Smart Voter Join Forces to Provide California Voters with Nonpartisan Online Voter Guide
Cooperating Organizations
Voter's Edge by MapLight