Smart
Voter and Voter's Edge Launch
Comprehensive Nonpartisan Online Voter Guide for California Voters
 Personalized
Ballot Look-Up Feature Allows Voters to Mark Selections and Share
Ballot Choices Via Social Media
MapLight and the League of Women Voters of California Education Fund are
pleased to announce the launch of Voter's Edge, a comprehensive nonpartisan
online voting guide to the California elections.
The project uniquely combines
MapLight's expertise using technology to track public information with the
League of Women Voters of California Education Fund's authoritative coverage of
election contests through its premiere website, SmartVoter.org.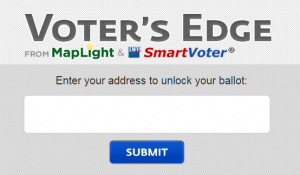 Embed code for ballot look-up Widget shown
above: 
<p><iframe src="/%3Ca%20href%3D"http://votersedge.org/?p=california" target="_blank">http://votersedge.org/?p=california"
width="450" height="400"></iframe></p>
Users simply type in their home address
and can immediately view their personalized ballot, supplemented by helpful
information such as endorsements, funding sources, news coverage, editorials,
candidate biographies, and more. Information that would normally require
extensive time and research to obtain is cumulated and made readily available
to the public all in one place, and can even be embedded as Widget on websites and blogs.
"Voters need a fair and
trusted source for election information, and our pilot partnership with Smart
Voter & Voter's Edge provides that in a single easy-to-navigate
website," said Melissa Breach, League of Women Voters of California
Education Fund's Executive Director. "This November, California Voter's
Edge is being powered by grassroots volunteers and powerful technology --
working together to inform and engage Californians on Election Day."
"Voter's Edge gives you, the
voter, the edge against all the biased, negative advertising," said Daniel
G. Newman, Co-Founder and President of MapLight. "It's the quick, easy way
to get the facts before you vote."   
Daniel G. Newman, MapLight Co-Founder and
President
"Where
are the tools that let citizens have more control of government?"  
Voter's Edge is transforming
civic engagement not only by empowering the electorate but by working to
increase it as well. In the 2012 midterm election, less than 56% of all
eligible California voters and less than 44% of young adults aged 18-29 showed
up at the polls (McDonald, 2012)(File, 2014). Citizens who are encouraged to
vote by nonprofit organizations, however, are not only more likely to vote
themselves but are more inclined to encourage others to do the same, thereby
exponentially amplifying voter turnout (LeRoux, 2011).
This is why with support from
California Forward, Voter's Edge now includes innovative features that allow
voters to share their ballot selections through social media, email, or by
hard-copy.   
"California's millennials
are an essential voice that must be heard if we want elected officials to be
thinking about the future," said James Mayer, CEO of California Forward.
"We are honored to be working with MapLight and the League of Women Voters
of California Education Fund to connect millennials to the information that can
make them confident voters and to learn how to connect even better with young
voters in future elections."
"The sharing feature was
designed to encourage thoughtful discussion about the candidates and issues in
the upcoming election, making participation more public and increasing interest
in the election," explains Newman. "Whether conversation is fostered
amongst a larger audience on social networks or contained within smaller
environments via email or print, the sharing features are designed to enhance
debate surrounding public policy issues, especially among youth and communities
of color, by promoting dialogue through modern channels of communication. We
appreciate the support of California Forward in helping us develop this
feature."
A Voter's Edge API is now
available for developers to customize and build their own web applications.
Please click the API link for more information.
Voter's Edge Funders:
The Voter's Edge project was made
possible by generous support from the James Irvine Foundation, the Kaphan
Foundation, the Rita Allen Foundation, the Tides Foundation Civic Innovation
Fund, the Hewlett Foundation as well as the generous support of individual
MapLight and League of Women Voters of California Education Fund's Smart Voter
donors.
About the League of Women Voters of California Education
Fund:
The League of Women
Voters of California Education Fund conducts our voter service
and civic education activities. It is a 501(c)(3) corporation, a nonpartisan
non-profit educational organization, which:
Builds participation in the democratic process.
Studies key community issues at all government levels in an
unbiased manner.
Enables people to seek positive solutions to public policy issues
through education and conflict management
About California Forward:
California Forward is a
nonpartisan, nonprofit organization working to bring government closer to the
people and move the state in the right direction - forward. We believe
empowered local communities are best equipped to solve their own problems, and
there is a critical link between many of the problems that threaten our future
and our state government, which has become ineffective, unresponsive, and
unable to fix itself.
About MapLight:
MapLight is a 501(c)(3) nonpartisan
research organization that tracks money's influence in politics in the U.S.
Congress and the California and Wisconsin state legislatures. We provide
journalists and citizens with database tools that connect data on campaign
contributions, lobbying, personal financial disclosures for members of
Congress, legislative votes, industries, companies, interest group bill
positions, politicians, and more. A list of MapLight funders can be
found here. 
MapLight and the League of Women Voters
of California Education Fund are joint partners for Voter's Edge in California. Outside of California
Voter's Edge is a project of MapLight and will launch in all 50 states prior to
the general election. 
Media Contacts:
Elizabeth Leslie (League of Women
Voters CA Education Fund)
c: 916-842-7737 | e: eleslie [at] lwvc.org │t:
@cavotes
Pamela Behrsin (MapLight)
c: 415-299-0898 | e: pamela [at] maplight.org | t:
@maplight
Subject
Smart Voter and Voter's Edge Launch Comprehensive Nonpartisan Online Voter Guide for California Voters