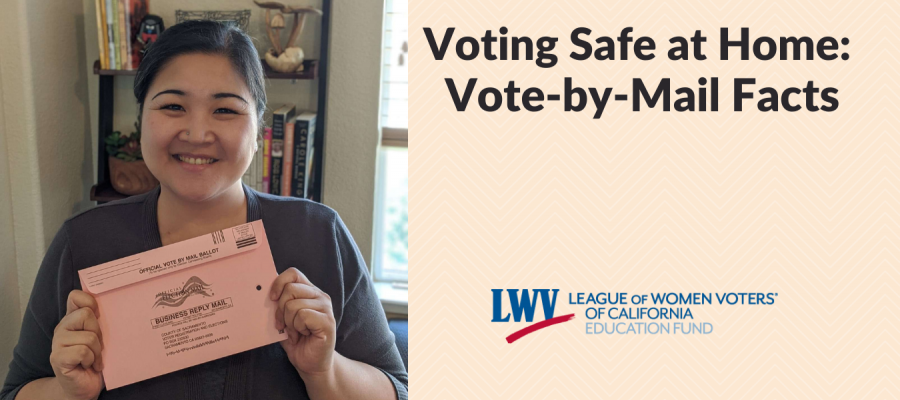 This year all registered, active voters in California will receive a ballot by mail for the November 2020 election. Voters have the option to return that mailed ballot through the mail, by dropping it off at any voting location or at a secure ballot dropbox if the county offers dropboxes, or to instead vote in person at a voting location. An overwhelming majority of Californians - and Americans as a whole - support vote-by-mail in the midst of the COVID-19 outbreak. However, myths and rumors have emerged challenging the integrity of vote-by-mail elections. The League of Women Voters of California has created this explainer to dispel common vote-by-mail myths.
MYTH: The 2020 Presidential Election is "All Vote-by-Mail" in California and there will be no in-person voting options.
FACT: Vote-by-mail is just one voting option to ensure all California voters can cast a safe and accessible vote in the midst of COVID-19.
Mailing ballots to every registered voter is essential to ensure that Californians are able to cast a safe and accessible ballot in November.  Of equal importance is maintaining robust in-person voting options. Voters in need of language assistance, voters with disabilities, those who will not receive mailed ballots because they are housing insecure, unhoused, or displaced due to the pandemic, and voters who need to register and vote on the same day must all be able to access in-person sites to fully exercise their right to vote.
For the November 2020 Presidential Election, due to difficulties securing sufficient numbers of spacious locations that will allow for safe voting, counties may reduce the number of in-person voting locations they usually provide. However, if the county chooses this option, then all locations are required to be open for early voting starting Saturday, October 31. Counties choosing to use this reduced ratio must also, starting on October 6, provide secure ballot dropboxes in convenient locations. Check California Counties - Methods of Conducting Elections and this explanation of election methods to find out more about your county.
MYTH: Expanded vote-by-mail will lead to voter fraud in California.
FACT: Voter fraud of any kind, including with mail-in ballots, is extremely rare.
Californians have had the option to vote by mail since 1979. Colorado, Hawaii, Oregon, Utah, and Washington conduct all elections primarily by mail, with the option to return ballots in-person, and have experienced essentially no voter fraud. Oregon, for example, has documented only about a dozen cases of proven voter fraud out of over 100 million mail-in ballots cast since 2000.  See also resources cited in Footnote 2.
MYTH: Automatic vote-by-mail is unprecedented in California.
FACT: Since 2016, counties that have chosen to implement the Voter's Choice Act have automatically mailed ballots to all registered voters in the county.
All registered voters in counties that have adopted the Voter's Choice Act (VCA) already receive a ballot in the mail automatically, without any need to submit a special application. California counties holding elections pursuant to the Voter's Choice Act are: Amador, Butte, Calaveras, El Dorado, Fresno, Los Angeles, Madera, Mariposa, Napa, Nevada, Orange, Sacramento, San Mateo, Santa Clara, and Tuolumne. Voters in VCA counties have three ways to return their completed ballot: by mail, via drop off at a secure ballot drop box, or by visiting any vote center in the county to either return the ballot or vote in person.
MYTH: Vote-by-mail ballots are likely to be forged, illegally printed, stolen, or fraudulently signed.
FACT: California has procedures in place that prevent forgery, theft, and voter fraud.
In California, where 72 percent of all ballots were cast by mail in the March 2020 primary election, the state has developed several tools to protect the integrity of elections.
Watermarked Ballots. California uses watermarks on its ballots that make it very difficult to create counterfeit ballots.
Signature Checks. Signatures on the return envelope are checked against signatures on voter registration cards to ensure they compare. To preserve the secrecy of the vote, the ballot is separated from the envelope before it is counted. Voters with missing signatures or ones that don't compare accurately are notified and given an opportunity to cure the problem so that their ballot may be counted.
Unique Barcodes. Mail-in ballots are also given unique barcodes for each registered voter to prevent duplicate votes and illegally printed ballots from being counted.
Tracking. All California counties have the Where's My Ballot opt-in system available to track and confirm the receipt of voted vote-by-mail ballots and to make this information available through texting or emailing the voter, online, or through a toll-free telephone number.
Secure Return. Voters may mail back their ballots or submit them directly to official ballot return sites, including drop boxes, polling places, vote centers, and elections offices. Find voting locations on Voter's Edge or through the California Secretary of State.
Assisted Return.  In California, voters who cannot return their ballot can enlist anyone's assistance to return it, as long as the assistance is not paid for on a per ballot basis. The ballot envelope is required to list the name of the person authorized to return the ballot, their relationship to the voter, and the signature of the authorized person. The ballot must be returned no later than three days after receiving it from the voter or before the close of the polls on election day, whichever time period is shorter.
MYTH: Vote-by-mail ballots will be sent to non-residents of California, including undocumented immigrants and inactive voters.
FACT: Mail-in ballots will be provided only to registered California voters.
Undocumented immigrants: California does not allow noncitizens to vote in elections. To be eligible to register and vote in federal elections, you must be a U.S. citizen. State law requires each person to declare, under penalty of perjury, that they meet all voter eligibility requirements, including citizenship. While clerical mistakes have caused some instances in which non-citizens were registered, these erroneous registrations have been cancelled by the Secretary of State. 

Inactive voters: In addition, county elections officials are required to report the number of "inactive voters" - people who have been removed from active status because election-related mail sent to them was undeliverable, usually as a result of changing addresses. Inactive voters do not receive election-related mail, including voter information guides and official mail ballots, and are subject to cancellation of their voter registration if they do not confirm or update their registration and do not vote in two consecutive federal elections after they are made inactive.
MYTH: Vote-by-mail favors one political party over another.
FACT: Vote-by-mail does not inherently advantage one party.
A recent study published by Stanford University examined elections between 1996 and 2018 in Washington, Oregon, Colorado, Utah and California and found that vote-by-mail has "no impact" on the share of voter turnout for either Republicans or Democrats. Among California's eligible voters, majorities of Republicans, Democrats, and independents all prefer to vote by mail. Republican and Democratic-led state governments nationwide have expanded vote-by-mail in response to the COVID-19 epidemic. No evidence suggests that shifting toward conducting elections primarily by mail would introduce bias in favor of one party over another in California.
For talking points and citations - check out the bottom of our myth busters document.
Also, check out the Election FAQ developed by our partners at California Common Cause.